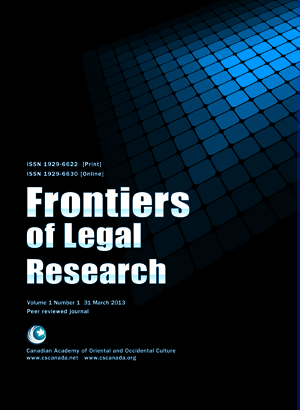 Online Submission      Email Submission
Journal Title: Frontiers of Legal Research 
ISSN 1929-6622 [Print]
ISSN 1929-6630 [Online]
Frequency: Quarterly
The FLR publishes 4 issues a year, in March, June, September, and December, and occasionally runs special conference issues.
First issue: March 31, 2013
Publisher: Canadian Academy of Oriental and Occidental Culture (CAOOC)
Address: 1055 Rue Lucien-L'Allier, Unit #772, Montreal, QC H3G 3C4, Canada. 
Telephone: 1-514-558 6138 
Language: English
Review: Anonymous peer-review, involves a double-blind review of all manuscripts.
E-mail: office@cscanada.net; office@cscanada.org
The journal Frontiers of Legal Research publishes articles on any topic of legal scholarship relating to international, comparative law, and legal theory. The FLR aims at becoming a platform for showing developments of law in Canadian, European and international jurisprudence and creates possibilities for communications from different legal systems. A strict and rigorous anonymous peer-review procedure ensures the quality and equal standing of articles submitted by professors, practitioners or students, and a distinctive linguistic policy and expertise gives authors the opportunity to publish their papers in English.
---
Join Us as a Reviewer or Editor
We sincerely welcome experts and scholars to cooperate with us as our editors and reviewers. For more please contact flr@cscanada.net or flr@cscanada.org